Search Engine Optimization
The more other websites link to your site, the higher Google will rank your site and the more visitors your website will get.
Working with links can boost your websites ranking
You want to reach a target group with a message. Your message must convey an insight or action in the target group, this can be referred to as you practice marketing.
But how can you stand out in the noise of all the information that the inhabitants of this planet are exposed to on a daily basis? How can you reach your target audience with your message? One channel you can use to reach your target group is to formulate your message on a website. But how should your target group find your website then? There are approx. 200 million active websites, so what can you do to ensure that people find your website with your message?
The answer is called Google. When people search on the Internet, they use different search engines and there Google dominates with over 90% of search engine use. Google's search algorithms must find your page when a user searches with Google on the Internet. To get high in a search, you have to think about a few things and that's where link building comes in.
If you can ensure that your page is useful, informative and prioritizes the visitor, his interests and purpose of visiting your page, the more popular your page can become. Then there is an increased opportunity for other people who run their websites to refer, i.e. links to your page where your message and content can be found. The more people who link in this way, the higher Google ranks your page and the more visitors your website gets.
So, it pays very well to work with link building if you want a lot of visitors to your site. But what should you do to optimize your work with link building? This article covers all the important things you should consider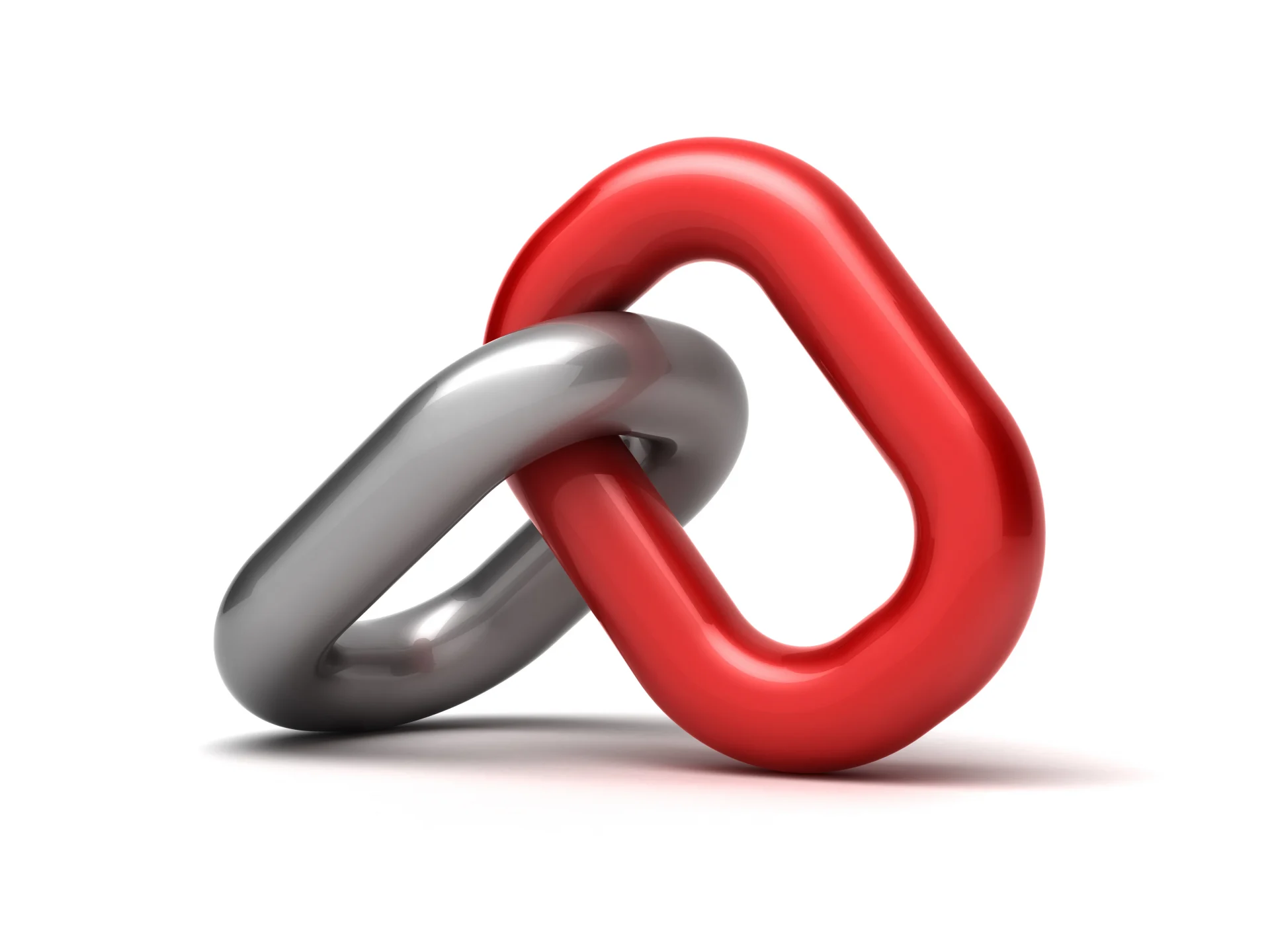 What should you consider when building links?
The better your content is, from the visitor's point of view, the more attractive your site will be. The optimal thing is, of course, if many websites link to your page and that websites with a high-ranking link to your page.
Organic traffic drives the number of domains that send a link to your page, see image below where the relationship between organic traffic and the number of domains that link to a good website is shown. This means that the more people who find your page, i.e. depending on the fact that your content is very interesting and rewarding, the more links you get to your site.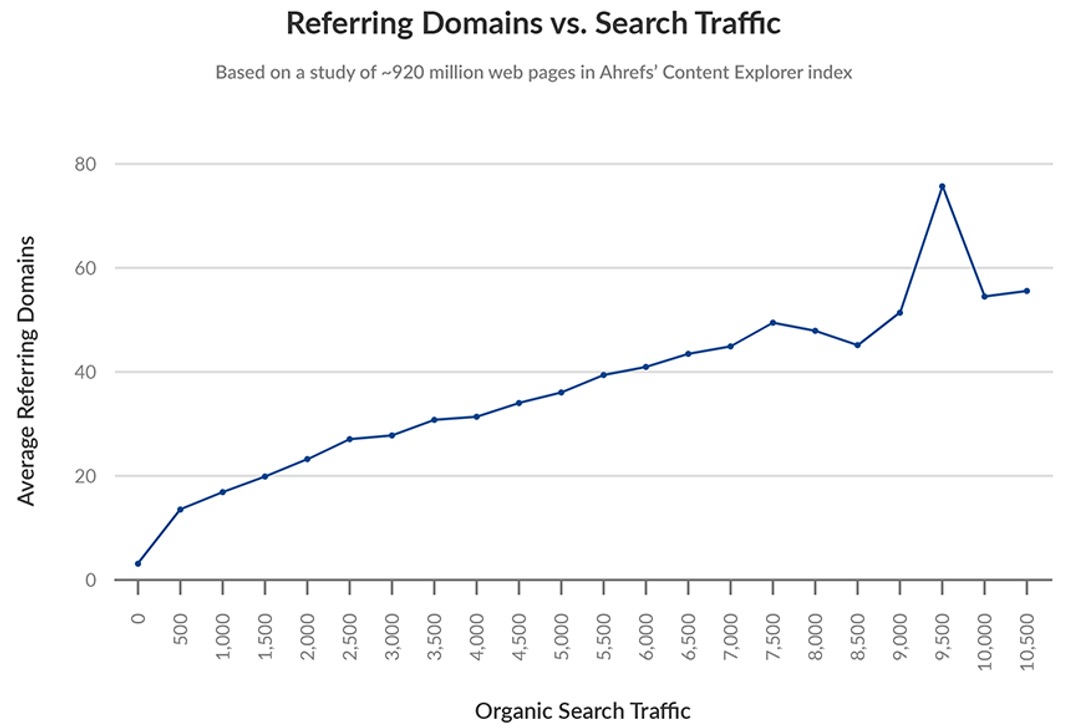 You need to consider the following when it comes to maximizing organic traffic to your site:
Make sure the content is good enough that people want to share it and link to it.
Promote the content on social networks so that people discover it and link to it.
Allow key opinion leaders (KOLs), bloggers, etc. to post your content on their sites linking back to your site.
Create valuable long-form content that is at least 2000 words and is a great resource that people must link to.
However, this takes a long time, so you have to be persistent. You have to work on expanding your network, i.e. through emails and social media for people to discover your website and the quality of your content. Only then do they begin to appreciate what you present and they begin to link to your site.
With active link building, you are in control. You need to find out who you want links from and work to achieve it. In the passive link building, you have no direct control over the link building, more than the fact that you write very good content.
The pages you want to link to me must have a high link power. The higher domain authority a website has, the higher link power it has.
How do you then find websites with high link power?
By using e.g. Ahrefs Website Authority Checker allows you to get information about which websites have strong domain authority. Ahrefs uses a concept called Domain Rating, which goes from 0 – 100. The higher the value, the more authority. Getting linked from these unique web pages, with a high authority score, is probably the only way to increase your own web page's authority.
But the best thing is to be linked from websites that enjoy a high-ranking factor on Google in order for your own website to be ranked by Google.
Something you should do early in your link work is to find out which links point to your site. On Google Search Console you can see incoming links. On Ahrefs authority checker, you can see which of these have high ranking power, which can be considered spam and sites you should fix so they no longer point to your site.
In order to reach those people you want, you have to do a reach-out analysis as well. Who are they, how do you contact them, etc. One way to reach them is broken link building. This is when there is a broken link on their site i.e. you get nowhere when you click on the link.
Then you can contact the web owner with the broken link and suggest that he replace the link address with a link address that you own. When contacting, you can emphasize that your content is: "It is updated, has good content and will support your site." Such an approach is part of active link building.
At Siteliner.com you get an analysis of the site URL you enter, free up to 250 pages. One can use Siteliner and Checkmylinks and get a good understanding of the broken links.
With the help of e.g. Link Explorer from Moz allows you to examine websites with similar content to yours and see what websites are linking to them. You can then contact these to see if they are willing to link to your site as well.
You can contact the person responsible for a web page that links to other web pages that deal with the same subject as you or that are perhaps "competitors" to your page. Hopefully that website doesn't mind linking to sites in your "industry" and that they are more open to linking to more sites since they already link to three competitors.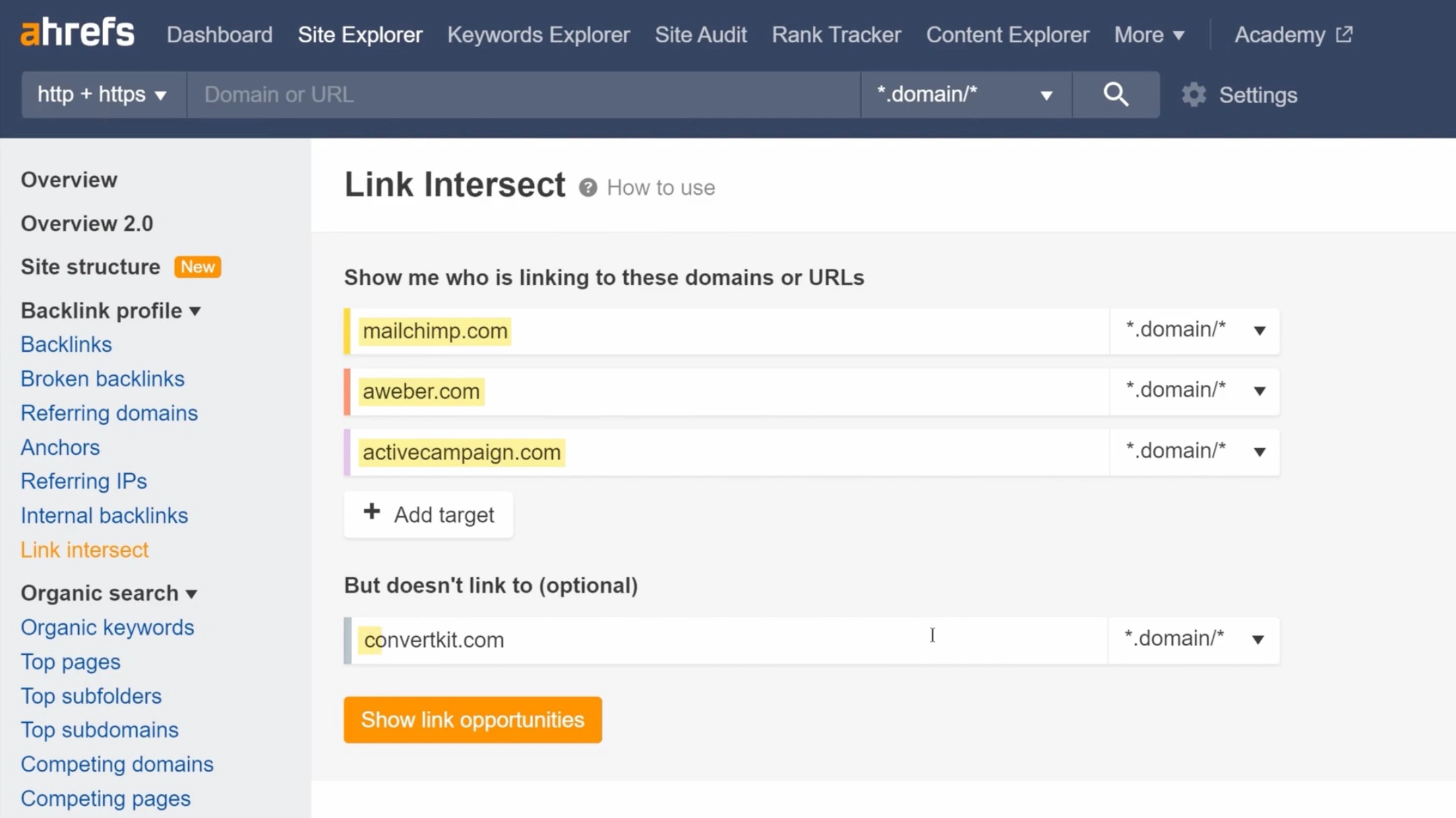 The way you find websites that link to your competitors is by using Ahref's Link Intersect tool, see image above.
In the tool, you enter three web pages you think are strong "competitors" to your page and then your own domain at the bottom. This will generate a report of sites that link to the other web pages but not to yours.
From there, drill down to specific pages to see which pages link to the other web pages.
As soon as you find websites that link to some of your competitors, you find out in what context they are linking out. Once you've found a handful of sites that are a good fit, contact the site owner and ask for a link.
Link building through images
You should be observant of the opportunities given regarding link building with images or other graphic material that you own. You should license your images with Creative Commons.
If other web pages use your graphic material, you must require them to link to your web page.
By using Google Image Search, you can find out who has taken your photos and is using them. You must then demand that they link to your page.
Other things to consider when building links
If your site is mentioned but that website has not linked to me, then you should consider contacting that site and asking them to link.
Link to other web pages that write about the same topic
You can link to other relevant websites, blogs and the like. Of course, it must only link to things that your topic is about and stands for and that may be interesting for your visitors.
Pages that are down on your site
You need to be observant if you have pages that are down but have incoming links. Then you must ensure that these links are redirected to another, relevant page on your site.
You can check around on various relevant pages and blogs. What do they write? What are they wondering about? Here you can partly gain insight into what your target group wants to know, but you also have the opportunity to answer questions yourself and the like. Then you must also link back to your website.
You can be diligent about linking to your own website when you post in other forums and media.
See what people are searching for in the search engines
It very likely gives new leads to interesting and readable articles/texts to write for your website. The texts must of course be relevant to your subject. You can use Google Trends to see if / how your topic is trending.
You will use Google Search Console and Google Analytics to see which sources work best as traffic drivers to your website. You should also create a sitemap.xml, link it in Google Search Console and keep it updated.

There is a documented relationship between the number of incoming links and organic traffic to a website.
The more you work with your content on your website, the more attractive your site will be. Other websites will want to link to your page and the higher the link power these have, the better for your website.
However, this takes a long time, so you have to be persistent. You have to work hard with your marketing of your website so that people will realize the quality of your content. Only then do they begin to appreciate what you present and they begin to link to your site.
Let's make your solutions visible!
Let's work together to create a successful online presence for your website and boost your online marketing activities that brings real results for the visibility of your solutions and enhance your brand.
I offer services in the follow below areas, click the links to learn more.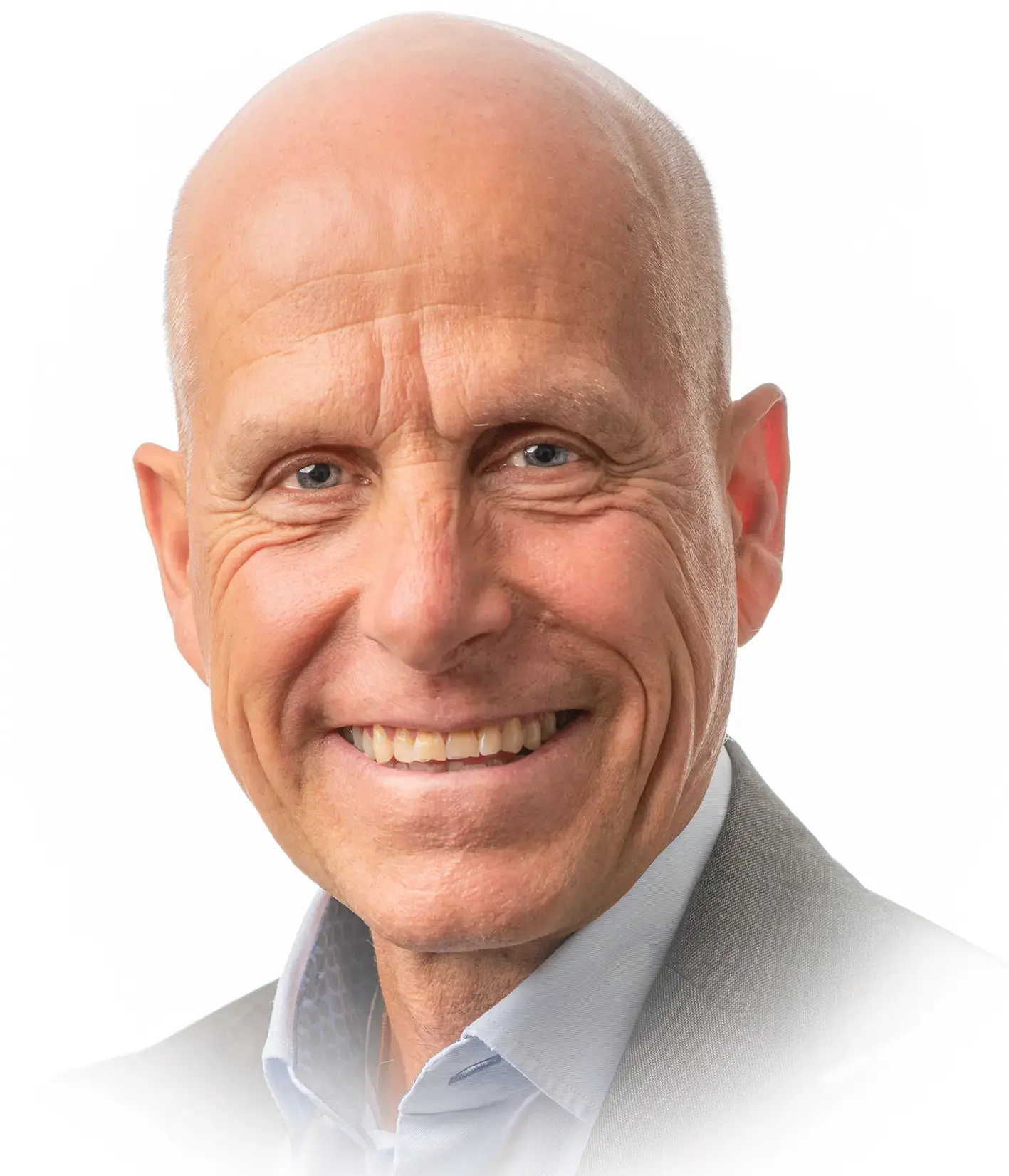 Contact me and let's discuss your questions, concerns and needs in any aspects in the above areas!